We caught up with young guard Matt Gaskell to talk his basketball journey so far and his hopes and ambitions for the upcoming campaign.
Basketball in Birmingham has been part of Matt's life since an early age with his parents introducing him to the Birmingham Bullets before joining the youth setup at COB a few years later.
"My parents used to go and watch the Bullets back in the day when I was four or five, so I have always been around watching it.
"I started at COB at around age 10 or 11 and have been at the Club ever since.
"I didn't really think about anything other than enjoying playing the game back then. I wanted to be as good as I possibly could be but I just enjoyed playing really. I wanted to play for as long as I could and then see what happens."
Matt credits his family for not only introducing him to the game, but also for their sacrifices to ensure he was given the best possible opportunities to develop as a player from the very beginning.
"When I was younger, I was playing at two different age groups, four times a week, and they would drive me half an hour to training every day and if we didn't have a minibus, they would sometimes sacrifice their weekends to take me to Manchester or to England camps.
"They always prioritised me and what I was doing and worked their schedule around that.
"Without that I don't know if I would have played as much as I did because I always knew that they would find a way to take me themselves or work it out with other parents so that I could get to where I needed to be."
The young guard saw his hard work rewarded with an invitation to the England under-14 youth camps before sustaining an injury which ultimately ended his involvement with the national development setup.
"The first camp I went to was the under-14s. It wasn't like there was a team or anything but it was more of a selection camp and there were three over the course of the year.
"I got injured when I was fifteen and didn't make it back to another one, but the initial ones were part of the England development setup but after my injury I never really got back into the setup after that.
"It gave me the confidence to think that I could play at a decent level at university in this country. I didn't really think I would make a career out of it or go professional; but it did give me that confidence to make me feel that I could play at a level up to National League men's division in this country."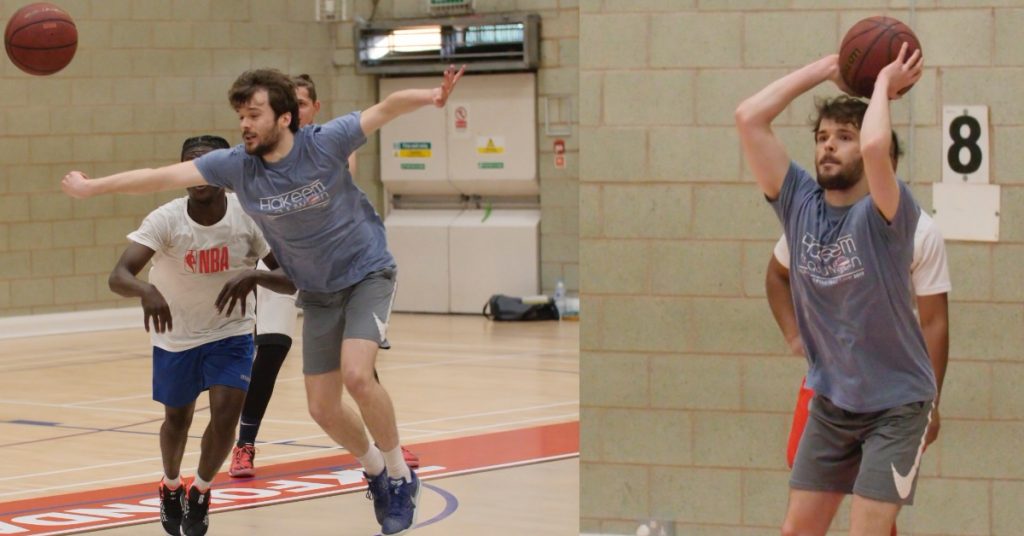 Matt insists that he is fully committed to doing whatever it takes to win and is looking forward to building a reputation as a reliable part of Coach Douglas' squad.
"I want to do whatever I can to contribute to winning. I want to have an impact however I can, whether its scoring or defence; being a utility player or just having a positive impact on the team as a utility player.
"Whatever it is I want to have a positive impact on the game and be known as a guy who is going to give 100% for his team and be a good teammate and will sacrifice to do whatever it takes to win.
"He coached me at the Regional Performance Centre in the West Midlands for a couple of years. When I was in the junior programme at under-13s and 14s at the club he was the under-18s Head Performance Coach at the club. He didn't coach me in an actual team there but he was always around and would coach me at various West Midlands sessions as a kid and helped to develop my skills."
Having represented Angela Ruskin University for three years, Matt is anticipating a smooth transition into the men's game but will still look to his more experienced teammates as he looks to enhance his game.
"I have played at a decent level for the Bucks in this country at university so obviously it will be a little bit of a step up into the men's game. I am expecting it to be a bit more physical and to be fast paced but, whilst there will be guys who will be a bit bigger and more physical, I am not overly concerned about the step up.
"There will be guys who have played in this country before and others who have played abroad so I am looking forward to the small things I can learn from them.
"I don't think they are going to come in and reinvent the wheel for me, but there might be small things to slow the game down or how to be a bit cleverer in certain situations from things they have picked up with that experience and from playing abroad which could help me be successful."
With the start of the new season fast approaching, Matt is eager to link up with his new teammates and get started with what promises to be a historic campaign for the Rockets organisation.
"I am really excited to get started. By the time we play our first competitive game it will have been eighteen or nineteen months since my last game at university as our last few were cancelled at the start of 2020. So, it has been a little while, but I am looking forward to getting back and playing competitively again. I am excited to feel that again and to play in a game that matters."