City of Birmingham Rockets women earned an extremely impressive win over Reading Rockets in the Rockets' derby on Saturday. It was their second league victory of the season and a historic night, securing their first home success since promotion to WNBL Division 1.
After being on the receiving end of a blitz from opponents in the first quarter on a couple of occasions this season, it was Birmingham who blew Reading away early on, racing out to a 17- 4 lead.
Although Reading closed the gap at the end of the fourth to create a few nerves, the home side held out for a deserved triumph.
Off the back of progression in the National Cup last weekend, Birmingham were in good spirits going into the game. They were up against a well-established Reading team with a 2-2 league record so far this season.
Birmingham started with a now familiar five, consisting of Michelle Turner, Nuri Seyedagha-Calderon, Catarina Seixas, Milly Harrison and Grace Brownell. Seyedagha-Calderon opened the scoring with an open three-pointer assisted by Brownell to give Birmingham an early lead.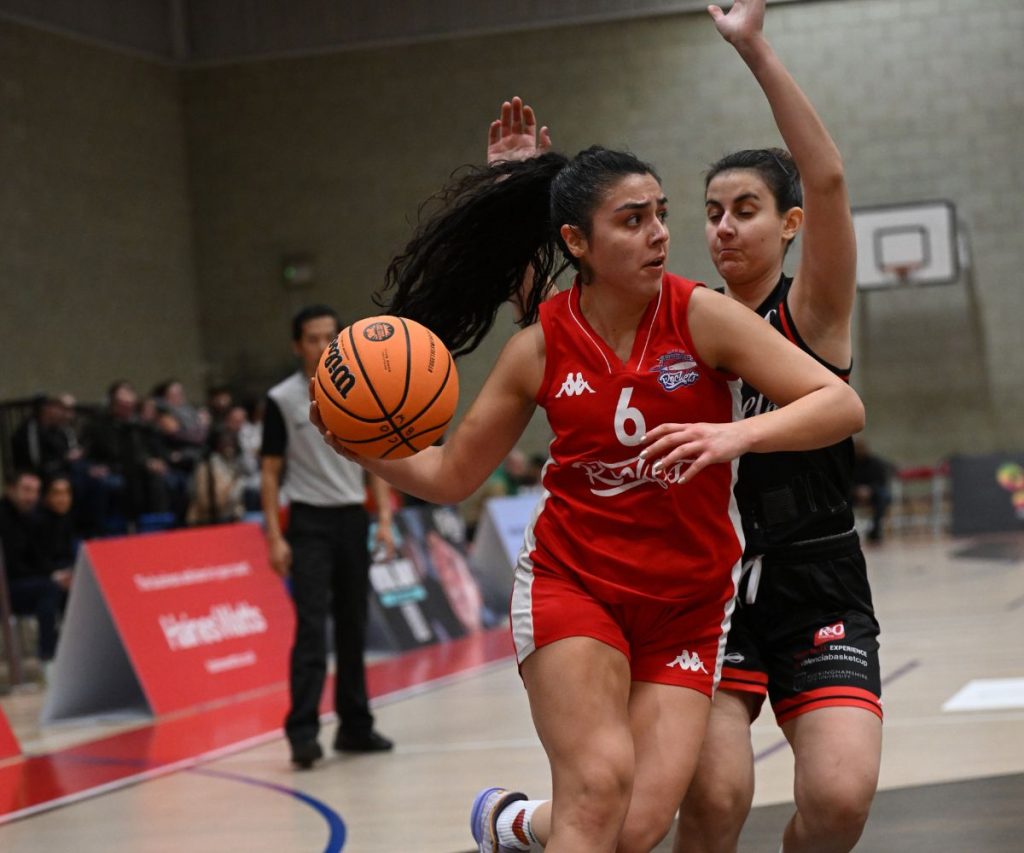 The home team were buoyed by an enthusiastic crowd and began with great intensity at both ends. Their speed and physicality took Reading by surprise and some excellent defence led to Seixas stealing the ball and setting Seyedagha-Calderon on her way, who assisted Harrison to lay-in for two.
Seyedagha-Calderon continued the fast start by draining another three, this time assisted by Turner. Ellie Pierpoint was then brought off the bench early on and had an instant impact, gaining another team steal and racing the length of the court to score under the basket. This forced a Reading timeout halfway through the quarter with the home-team Rockets six points up.
The momentum still remained with Coach Emery's side though, as intense marking immediately caused a Reading backcourt violation. This sparked a 12-0 run by Birmingham, including a Heather Maxwell two following an offensive rebound, and two baskets by Sarah Mullgrave in quick succession, as she came off the bench to great effect several times throughout the game.
An unfortunate injury to Maxwell then occurred, causing a lengthy stoppage. However, this seemed to fire up the Birmingham side even more and the crowd erupted as Turner netted a long-range three to end the quarter 20-10, giving the home team Rockets a double-digit lead.
City of Birmingham began the second quarter strongly too, forcing yet another Reading backcourt violation. Seyedagha-Calderon and Turner were becoming the dominant duo of the contest, combining for eight points at the start of the quarter and forcing several turnovers too with aggressive defence.
Birmingham were also utilising their full squad and everyone played their part in pressurising Reading to regularly force mistakes. Coach Emery was constantly switching between the full-court press and half-court defence, sensing when to go in for the kill.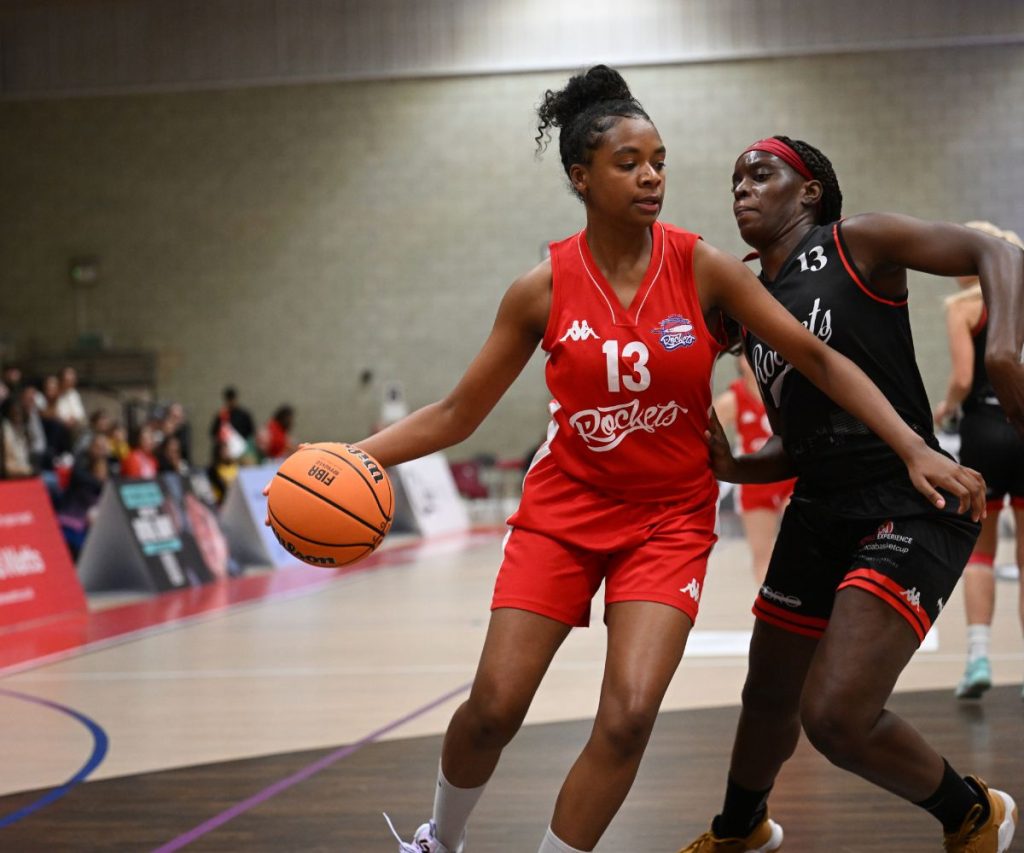 Danie Wallis was another player making a big difference off the bench as she then earned a steal and sank a lay-up after a one-two with Turner. By this point, Birmingham had extended their lead to 15 points, 31-16.
Reading were visibly frustrated with proceedings and Maru Biblioni was fouled hard driving to the basket, leading to a technical against the visitors, giving her the opportunity to make three baskets from the line.
With Biblioni now at point guard, the pace and intensity increased even more. She was a real thorn in the Reading side as her energy led to a personal total of eight points, three assists, two steals and two rebounds off the bench. Further points from Biblioni and Mullgrave closed out the half 40-28 in favour of the Birmingham Rockets, to the delight of the crowd.
Birmingham began the second half playing the same fast-flowing basketball as the first, with Seixas immediately sinking a two pointer, assisted by Harrison. Seixas bossed the play for the next couple of minutes, scoring seven of her nine personal points (to add to five rebounds, two assists and three steals) in the third quarter. She also assisted Harrison for two, resulting in a Reading timeout with just over six minutes left in the quarter with Birmingham up 49-33.
Reading did then start to threaten a little more, moving the ball better to take open jump shots. However, Birmingham continued to match them at the offensive end. Wallis found the basket again for two set up by Seyedagha-Calderon, before Brownell cleverly stole the ball leading to a Turner three-pointed, found open by Biblioni.
Another steal from Biblioni led to Seyedagha-Calderon using her strength to score in the low post to end the quarter with the home side maintaining a double-digit lead, 56-44.
The final quarter began with Birmingham matching Reading basket for basket, ensuring they kept a healthy lead. Biblioni netted a three, assisted by Turner. Then, a Turner steal led to Seixas hitting an open jump shot.
However, Birmingham were in foul trouble with just under five minutes left in the fourth quarter, resulting in a number of Reading free-throws, allowing them to cut the lead down to ten points with several minutes still to play.
Seyedagha-Calderon demonstrated real leadership qualities on the court at this stage, ensuring that Birmingham slowed the game down where possible and maintained composure amongst the chaos of a fired-up Reading team and a capacity crowd bringing the energy. She assisted Turner after great team ball movement, then Turner became provider for Seixas to score the next points.
With just two minutes remaining, Coach Emery's team still kept a nine-point lead. Both sides were now in the penalty and Reading used this to stop the clock and force Birmingham to seal the win from the foul line. Despite a couple not going in and Reading hitting back-to-back threes at the other end, both Brownell and Seyedagha-Calderon made free-throws to just about keep Reading at bay and secure the win, 67-63.
It was a fantastic victory against quality opposition. The crowd loved it and their encouragement of the home-town Rockets certainly helped get the team over the line. On the night, Birmingham once again had ten different scorers and everyone played their part with intense defence too.
As well as many significant contributions off the bench, there were standout performances from Seyedagha-Calderon with 16 points, two rebounds, four assists and two steals; Turner with 14 points, four rebounds, four assists and five steals; and Seixas with 9 points, five rebounds, two assists and three steals. Congratulations to the whole team on a fantastic victory.
Next up, we travel to Southwark to take on CoLA Southwark Pride next Sunday.
Click here to get your tickets for our next home game on Saturday the 25th November when we'll be facing off against Ipswich in a 5pm tip-off. Come along and show your support!
Report by Jess Ellicott