City of Birmingham Rockets Basketball Club are delighted to announce a new International Partnership agreement with Italian club Aquila Basket Trento and their Dolomiti Energia Academy.
In an extremely exciting move for the club, this new agreement opens up unique opportunities for Rockets players and coaches with our Italian partners.
The agreement sees Rockets become the exclusive UK partner of Aquila Basket Trento and their Dolomiti Energia Academy.
Speaking about the partnership, Rockets CEO Robert Palmer said, ""We are very excited to be entering this agreement with Aquila Academy.
"This partnership creates significant possibilities within our performance programme pathway for our players and unique learning opportunities for our coaches.
"During our talks it has been clear that our two organisations share personal values and integrity, which we believe will form the basis of a long and successful partnership.
"I would like to thank our mutual friend, Donte Mathis, for this introduction, while Marco Crespi (Academy Director) and Andrea Nardelli (General Manager) provided us with wonderful hospitality during our recent visit to the club."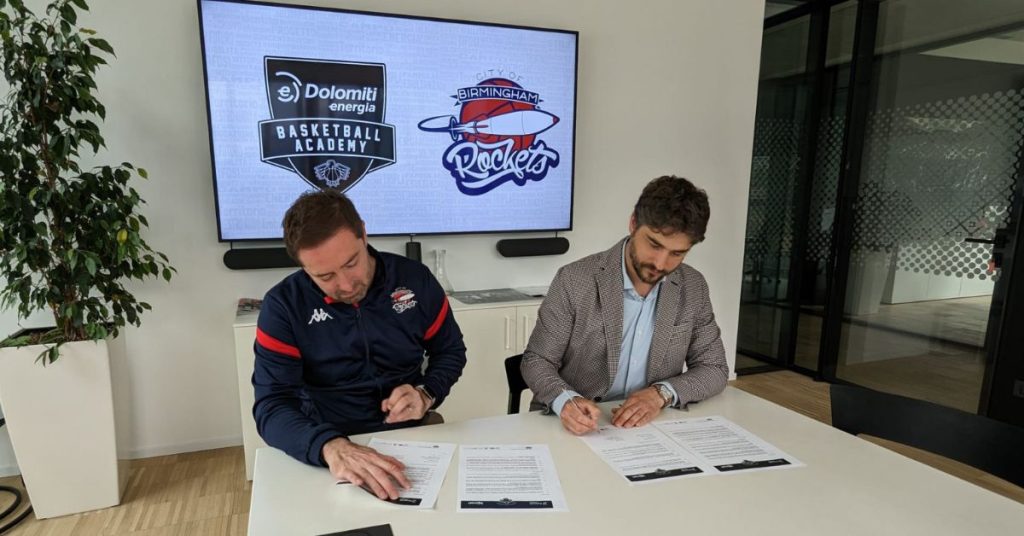 Marco Crespi, Technical Director of the Dolomiti Energia Basketball Academy, said, "Development is the goal of our Academy.
"Developing through the sharing of ideas and the opportunity to connect with people who can be inspiring and motivating. We are delighted to have met Robert Palmer and his Birmingham Rockets.
"We are doubly pleased that they are the first club outside Italy to join the Academy and that Aquila can have a partner in the UK, a Country where basketball is set to grow in the coming years."
We are extremely excited to add another international club to our ever-growing repertoire of partners and look forward to the mutual benefits of this partnership in the years to come.