Rockets Awards 2019/20
This year our Annual Awards took place over the weekend of 2/3 May on social media due to the COVID-19 pandemic.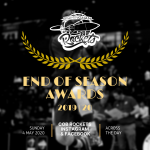 It was a great boost to look back on some memorable moments during the past 12 months and celebrate the individual and team successes of the 2019/20 season. There were a total of 50 awards across the club which shows the depth and strength of the Rockets organisation. Congratulations to all award winners and team mates and of course great thanks to our incredible coaches, volunteer workforce and parents for your support during another amazing season!